Gorgeous Gardens Bursting with Color
Feb 19, 2020, 15:00 PM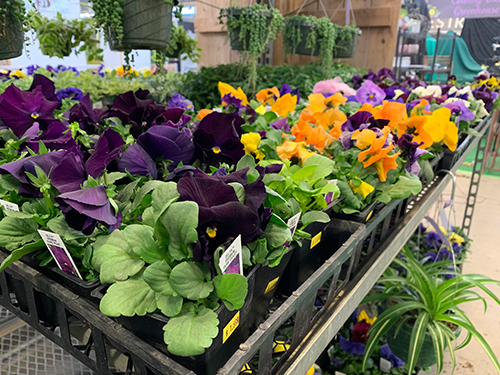 What is a better way to celebrate the end of winter than browsing through a bounty of beautiful buds bursting with color? This year's Flower + Patio Show with its gardens, landscaping and patio features will make you see green with excitement!
"This year's show will ring in spring with bright, gorgeous gardens," said the show's landscape coordinator, Bill Brown of Marketplace Events. "When it comes to the landscapers, there are new faces on the playing field this year, so you'll see more variety and different styles. Their colorful, creative designs will inspire attendees looking to spruce up their yards."
"Visitors to the Flower + Patio Show should definitely expect to see the 'wow' factor from our Pro Care garden," said Lowell Rolsky of Pro Care Horticultural Services. "Our hope is that people will take inspiration from the garden to move toward their own garden design goals in a way that is practical, functional, usable and personally rewarding. So, when you visit the show this year, find a part or parts of the Pro Care Horticultural Services garden display that you can see working in your own yard, and make things happen. Just remember that with a little patience, the right vision and amazing implementation come incredible results."
"Bright festive colors will highlight the McNamara Garden this year," said Toomie Farris of McNamara Florist. "This year's garden will feature a number of plant umbrella-shaped displays with a slightly whimsical feeling, incorporating brightly-colored watering cans and garden containers displayed in blocks of colors. You will be able to walk under several large manmade tree canopies and enjoy the varied and colorful assortment of flowering and foliage plants, which is sure to give you a case of spring fever."
"Evergreen trees, spring bulbs and flowering shrubs will flow throughout our 'Vivacious Garden,'" said Jim Calvin of Calvin Landscape. "After entering the patio, visitors will be surrounded by a lush landscape that will help them forget it's still winter. Walking toward the cedar pergola, they'll find ideas of potential patio designs on display. Upon reaching the pergola, visitors will walk past a custom outdoor grill station with a custom concrete countertop. This all adds up to a warm, vivacious vision of spring."
Come to the show, March 14-22, to experience everything from upscale and indulgent to mid-sized gardens and other more budget-friendly options, Flower + Patio Show visitors have a range of landscaping beauty at their fingertips.
Be sure to visit both West Pavilion and Expo Hall for a variety of sprouting succulents and pleasing perennials! Get your tickets today and beat the lines!
Contributing landscapers include:
o Above and Beyond Companies
o All Pro Landscaping
o BLC Outdoor Services
o BPI Outdoor Living
o Budde Landscaping
o Calvin Landscape
o Copper Canyon Landscape Design
o Country Gardens Lawn & Landscape
o Custom Stone Design
o Divine Outdoor Services
o Elsie's Flower Shoppe
o Grok Landscapes by Design
o Heath Outdoor
o Indianapolis Landscape Association
o JMT Landscape Group
o Lakeshore Hardscapes
o McNamara Florist
o Precision Outdoors
o Pro Care Horticultural Services