Former White House Florist Displays the Art of Floral Diplomacy
Mar 5, 2020, 15:00 PM
Laura Dowling is known around the world as one of the top florists and flower experts in the industry. Having appeared numerous times on HGTV, Laura has built a reputation for beautiful, intricate floral designs. Laura also received the very prestigious honor of being the official florist for the White House during the Obama administration, one of only four in history.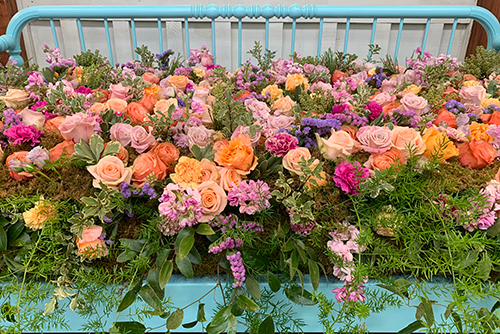 As Chief Floral Designer for the White House from 2009 until 2015, Dowling managed floral design for thousands of official and private events at the White House. Including, state dinners, parties, receptions and large-scale installations, such as the Fourth of July, Halloween, and the iconic White House Christmas.
Her lush and lively floral creations also graced the White House state rooms, East and West Wing offices, Camp David and the Presidential private residence. Laura's unique approach focuses on the premise that flowers can be more than just decorative objects, conveying important diplomatic messages, cultural meaning, and symbolic metaphor. Floral diplomacy — the art of honoring visiting dignitaries through floral symbolism that articulates compelling artistic and strategic themes — became a signature initiative during Laura's time at 1600 Pennsylvania Avenue.
Her first book, "Floral Diplomacy at the White House" (March 2017), describes her approach for creating inspiring White House flower and décor, while "A White House Christmas: Including Floral Design Tutorials" (October 2017), gives readers a behind-the-scenes glimpse into decorating the White House for Christmas. Her third book, "Wreaths: With How-To Tutorials" (October 2018), launched a new series of floral and design books. And her newest book, "Bouquets: With How-To Tutorials," features 75 how-to designs illustrating innovative floral styles and techniques.
Laura is known for her contemporary and romantic style of flower arrangement featuring a free interplay between flowers, floral boughs, and branches, berried twigs and leafy vines, combined with more formally designed bouquets.
Come meet Laura and learn more about her unique approach and one-of-a-kind experiences when she appears at the Flower + Patio Show on Friday, March 20 and Saturday, March 21! Get your tickets today and beat the lines.